Q Acoustics
Q Acoustics New Concept Series Loudspeakers
We are very pleased to announce that PC Audio are now offering the complete range of multi award winning Q Acoustics loudspeakers.
Founded in 2006, Q Acoustics has quickly built a reputation for designing and manufacturing class-leading loudspeakers. 16 years later, Q Acoustics enjoys an established reputation for meticulously engineered, excellent sounding yet affordable speakers on both sides of the Atlantic.
In audio history terms, Q Acoustics is a relatively young company but their achievements have far exceeded expectations. Formed by experts in the audio industry, they tasked themselves with making the best affordable loudspeakers in the world, recruiting world class acoustics engineers and industrial designers to make this a reality. The innovations in design in the new Concept Series are due in large part to the renowned German loudspeaker designer Karl-Heinz Fink, and the work of his design team at Fink Audio-Consulting.
Concept Series Loudspeakers
Q Acoustics Concept 50 Speaker Featuring Gelcore™ Cabinet Construction & Isolating Sprung Baseplate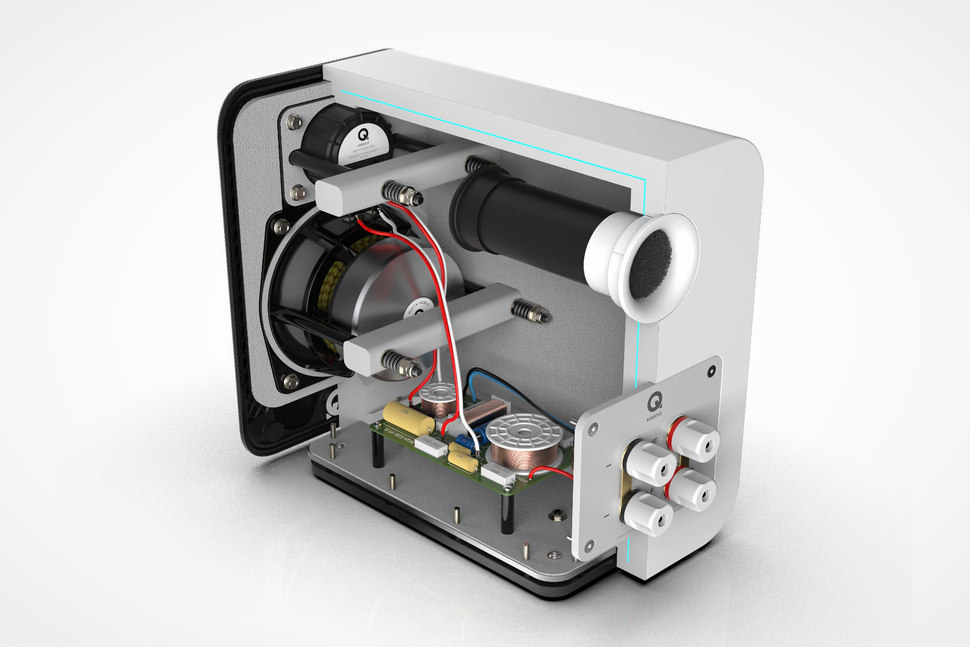 Introducing the new Q Acoustics Concept loudspeaker series
The Q Acoustics Concept Series, comprising of the Concept 30 bookshelf, Concept 50 floorstander, the flagship Concept 300 standmount, the top-of-the range Concept 500 floorstanding speaker and the Concept 90 center channel for home cinema. These loudspeakers are the culmination of all the technological advancements and innovations the company has achieved over the past 15 years and goes beyond anything that Q Acoustics has accomplished before. We confidently believe these beautifully styled speakers provide a level of sonic performance previously thought impossible at these price points.
Controlled power
All driver designs have been specially developed, from the ground-up for the Concept Series. Each driver is optimised to deliver a neutral, powerful and dynamic audio, free from exterior and interior resonances that can affect the transparency of sound.
Elegant design
Understated but effortlessly stylish, the Concept family fits perfectly into your listening environment. The exceptional engineering inside the cabinet is matched by the stunning, premium finish on the outside, that honours the range's flagship credentials. In a world of busy designs, the Concept's form is refreshingly minimalist, with the series available in three exquisite lacquers – white, black and silver – while the flagship 300 and 500 arrive in dual gloss and Italian wood veneer finishes.
Come By for a Listen
Please contact me at 519.434.3290 or by email at michael@pcaudio.ca to arrange a convenient audition time for you to come by for a look, listen and perhaps a cup of coffee or tea?