Solidsteel – Product News: 04/20
Made in Italy since 1990
PC Audio is now offering the high performance and beautiful to look at range of Italian made Solidsteel brand speaker and audio equipment stands.
Solidsteel is an Italian company that promotes a project born in 1990. Their brand "Solidsteel" is specialized in the making of racks, cabinets, audio stands, speaker stands and wall-shelves for Hi-Fi, High-End, Video and Pro Audio components.
Initially I will be stocking the Solidsteel SS Series of "Vintage" speaker stands. Pictures do not do these stands justice. These stands are handmade, beautifully constructed and very high performance and with their interchangeable top platform sizes will support most "bookshelf" or monitor style speaker models. They are offered in a black or white finish or with a raw unpainted finish available by special order.
Solidsteel's Historical Flagship
It is of critical importance for the performance of monitor-type loudspeakers to have them positioned at the correct height. Additionally, since this type of speaker is often relatively light in weight compared to floor-standing units, it is essential to maintain high stability and rigidity. And, as with all components, proper decoupling must be considered.
The Solidsteel SS Series fulfills a longstanding need regarding the proper setup and enjoyment of monitor speakers, and must in many ways be considered as important as the units they support. The three tubular supports end with a crimped steel bar. The stainless steel spikes are removable to allow the frame to be filled with damping material if desired. The top plate made from MDF is interchangeable, ensuring a high degree of optimization with the largest number of loudspeakers. Decoupling between the stands chassis and the speaker shelf is achieved through three high precision steel ball bearings. The SS stands are also supplied with "Pata-fix®" to properly fix the speakers to the top plate.
The originality of the design of these legendary products dates back to 1992, the year in which Solidsteel's founder Moreno Conti produced the first serial production units.
These unique tripods are assembled through a traditional brass welding process, wisely performed by expert hands. The average production time of a single piece is about 15 minutes, with all its parts already prepared for processing. These characteristics make them inimitable and unique.
For more information or pricing on the SS series of Solidsteel speaker stands or any of their other models, please contact me.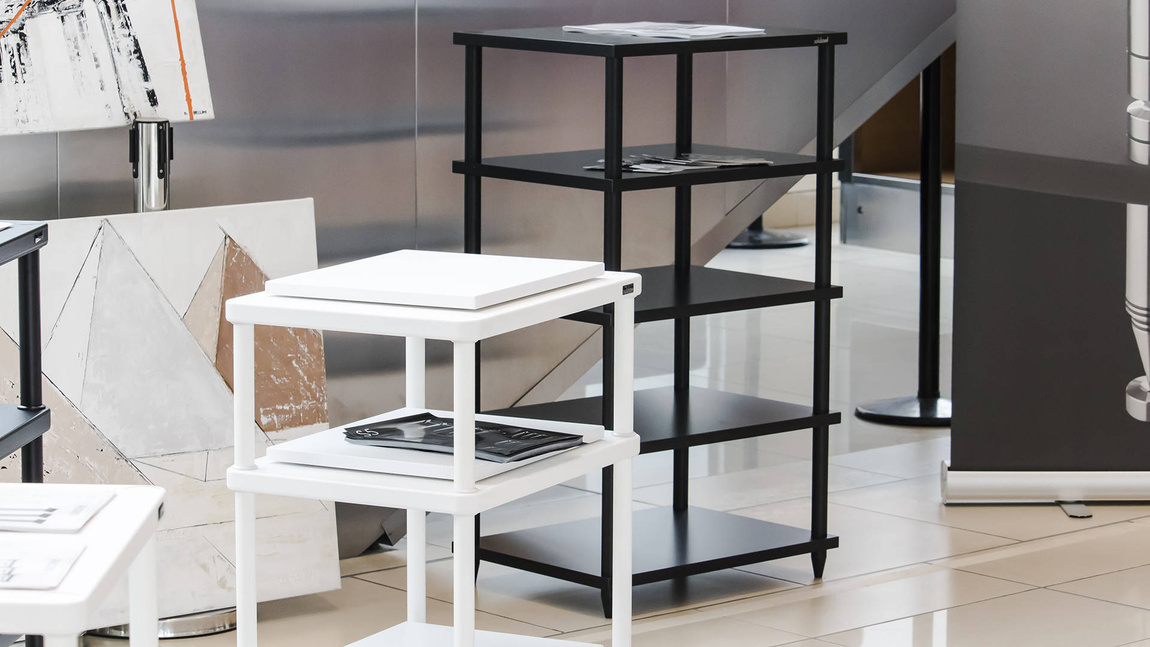 Come By for a Listen
Please contact me at 519.434.3290 or by email at michael@pcaudio.ca to set up a convenient audition time in your home or office or let me know if you would like to come by for a look, listen and perhaps a cup of coffee or tea?